Subsequent to my previous post on taking a break at Durham Marketplace, I continued my walking tour around Durham. I was enchanted by its old buildings and architecture, cobbled streets and some old houses. Most of the people roaming the place, I believe, were tourists like me who were exploring the lovely city.


I found a footpath along the River Wear, it was full of greenery and the atmosphere so serene that one could hear only the birds chirping.
  I also met a few joggers along the way. As I go further, I saw 3 teen-agers down the river bank  smoking and were startled as they saw me coming. I had the hunch that they might be smoking joint hence I decided to retrace my footprints. As I turned back, this was the view that was waiting for me…………….
the historical Old Elvet Bridge which I came to know later. The Old Elvet Bridge, according to history, is Durham's second oldest bridge which was built in 1160. I continued to walk to the other side of the bridge and found these lovely wooden boats berthed along the river bank.
The wooden boats reminded me of the boat trip, a bigger wooden boat, on Steinhuder Meer on the way to Wilhelmstein Castle in the north west of Germany, near Hannover.
I continued my walk along the river side enjoying the surroundings and the panoramic view……
….the iconic Durham Cathedral above with its towers proudly standing above the trees and buildings in the vicinity….. below is a pavilion and a cow sculpture on the other side of the river bank.
At the end of the riverside, I ended up in a clearing with lush greenery……
I continued walking and found this foot bridge
I found a pathway which I followed and led me back to the city center.
This photo below was taken at Framwellgate Bridge, the oldest bridge in Durham which was built in 1120.
Below is Framwellgate Bridge taken from the river bank.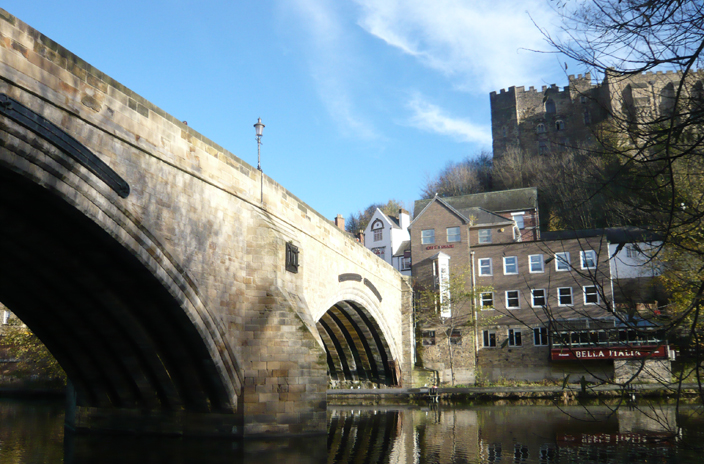 Above photo was taken from http://www.durhamworldheritagesite.com/architecture/historic-bridges
It was a tiring day, to be honest I was dragging my leg way back to the train station going back to Newcastle, but it was really worth it. The memories are priceless treasure to be cherished for a lifetime.
Comments
comments